Democrat Bill Ritter gained a 19-point lead on Bob Beauprez, his Republican opponent, over the last three weeks. In the latest Ciruli Associates voter poll, Ritter's support surged from 43 percent on Oct. 2 to 52 percent on Oct. 26. Beauprez's support remained the same in both surveys – 33 percent. The undecided vote dropped by 8 percent to 12 percent in the latest survey.
Figure 1. Ritter's Lead Grows to 19 Points from Oct. 2 to Oct. 26
*Other candidates on ballot: Clyde Harkins, Dawn Winkler-Kinajeder, Paul Fiorino, write-in candidates Gary Cooper, Darla Herold and Chuck Sylvester.
Question: If you had to vote today for governor, would you vote for Bill Ritter, the Democrat, or Bob Beauprez, the Republican, or some other candidate? [ROTATED]
Ciruli Associates, N500, Oct. 2; N501, Oct. 26, 2006
Originally, it was assumed that the 2006 governor's race would be close, similar to the 8,000-vote victory in 1998 that Gov. Bill Owens won over then Lt. Gov. Gale Schoettler. But instead, it appears more like the 17-point 1986 blowout former Gov. Roy Romer won over former State Senator Ted Strickland in Romer's first race (Romer 58% to Strickland 41%).
The statewide survey was conducted by Ciruli Associates with 501 likely Colorado voters from Oct 24 to Oct. 26, 2006. The survey was conducted as a partnership between 9 KUSA and ciruli.com, the political website of Floyd Ciruli. The statistical range of error is ±4.4 percentage points. Ciruli Associate is a non-partisan research firm providing polling, election analysis and political commentary to Colorado and national media organizations since 1986.
Illegal Immigration Question
The Beauprez final counterattack on illegal immigration failed. Although the issue has salience for voters, Beauprez became entangled in a controversy over the source of the data, which distracted his campaign and blunted the issue. Beauprez remained on the defensive much of the critical three weeks in October when he needed to make upground.
In fact, the illegal immigration issue was unlikely to move sufficient voters to close the gap because Republicans do not own the issue. Voters, when asked which party would do the best job controlling illegal immigration, were divided in their answers (see Table 1). Many voters (21%) believe neither party will do a good job on the issue. And while Democrats and Republicans mostly back their respective parties, unaffiliated voters lean slightly toward Democrats as being the best to handle the issue.
Table 1. Voters Split Between Parties on Illegal Immigration
Question: Regardless of how you usually vote, which political party do you believe will do the best job controlling illegal immigration, the Democrats or the Republicans? [ROTATED]
Ciruli Associates, N501, Oct. 26, 2006
Ritter and Beauprez Support Among Partisans
One story of this election was the revolt of the Republican middle. Besides getting 86 percent of his fellow Democrats, Ritter was capturing 23 percent of the Republican voters (see Figure 2) in late polling. That surprising number was confirmed when voters were asked to indicate how they voted in the 2004 presidential election and 20 percent of the Bush voters said they supported Ritter.
Equally devastating to the Beauprez campaign was the loss of unaffiliated voters by more than 2 to 1. Ritter was winning 57 percent of unaffiliated voters whereas Beauprez was capturing only 22 percent.
Figure 2. Ritter Ahead With Partisans and Unaffiliates
*Sept. 14, 2006 registration: 1,066,956 Republican, 896,861 Democrat and 999,552 unaffiliated.
Party, Ideology and Governor's Race
When party identity is analyzed from the point of view of ideological preferences, it's clear that Beauprez's main challenge was not among Republican conservatives, of whom 76 percent supported him (which is 68% of the Republican Party), but moderate Republicans, whom he actually loses to Ritter 37 percent to 41 percent (they represent 23% of the party) (see Figure 3).
Figure 3. Ritter Wins Middle and Left – Both Parties
Ciruli Associates, N501, Oct. 26, 2006
Ritter lost almost no liberals (54% of the Democratic Party) in late polling; although originally it was thought he might have trouble with pro-choice liberals in the party.
Abortion Question
Colorado is a majority pro-choice state with only about 13 percent of voters believing abortion is always illegal. Another quarter (27%) support abortion only within a narrow definition. Slightly over half the electorate (56%) is either strongly pro-choice or pro-choice with few restrictions.
When voter preference on abortion policy is compared to choice for governor, Ritter, who is pro-life albeit within a narrow definition, won a quarter (26%) of the most strict pro-life voters. Importantly, he captured more than two-thirds (69%) who are strongest pro-choice while losing only 16 percent to Beauprez (see Table 2).
Table 2. Pro and Anti-Abortion Voters Split Their Vote
Always illegal

Legal but strict restrictions

Legal with few restrictions

Always legal

Ciruli Associates, N501, Oct. 26, 2006
Question: Thinking about abortion, do you believe it should be illegal under all circumstances, legal but with strict restrictions, legal but with a few restrictions or legal under all circumstances?
Further, when voters are divided into religious categories based on their amount of church attendance, Beauprez did not have a monopoly on the most religious voters. Those who attend church frequently (weekly or more) supported Ritter 45 percent to 43 percent for Beauprez. Ritter also won less frequent churchgoers 54 percent to 35 percent and secular voters 61 percent to 20 percent.
Unaffiliated Voters and Governor's Race
A second major theme of the midterm election was the rise of angry independent voters. Late voter registration was dominated by unaffiliated registrants. Thirty-seven percent of voters said they were independent in the survey, 20 percent Democrat and 32 percent Republican. They were especially upset about the war in Iraq and the direction of the country. Unaffiliated voters are closely divided among those who identify as liberal (28%) and conservative (30%). Not surprising, most say they're in the middle (42%) (see Figure 4). Ritter overwhelmingly carries liberal unaffiliated voters and the middle group by 5 to 1. As expected, Beauprez won conservatives, but Ritter still managed to receive 28 percent of them.
Figure 4. Ritter Carries Middle and Left Unaffiliated Voters
Ciruli Associates, N501, Oct. 26, 2006
Demographic Characteristics
Ritter carried every region except the South Front Range, which is dominated by El Paso County (includes Pueblo and El Paso). Inspecting congressional districts shows that Beauprez was not winning his old congressional district, the 7th – it was tied in late polling. He carried the 5th CD, but was losing everything else, including, surprisingly, the 4th CD (see Table 3).
Table 3. Demographic Characteristics of Ritter and Beauprez Voters
*Small sample size

Ciruli Associates, N501, Oct. 26, 2006
Ritter was leading among Anglo voters 49 percent to 37 percent. He swept Hispanic and Black voters. There was a 14-point gender gap, with Ritter winning female voters by 26 points and men by 12 points.
National Trends
A number of factors damaged the Beauprez campaign before it really started in the summer of 2006, including the bitter fight over Referendum C; the five-year timeout of the TABOR Tax Limitation Amendment, which left the Republican Party divided and Beauprez on the losing side opposite of much of the state's business, political and media establishments (including the popular Republican governor); and the drawn out inner-party fight with Mark Holtzman, which raised Beauprez's negatives and fixed the name "Both Ways Bob."
Colorado's politics have become more competitive and moderate. Democrats were fortunate to nominate a prosecutor with a good reputation, but little political track record; an easy personality; moderate image and an independent streak demonstrated by his pro-life stance in an overwhelmingly pro-choice party.
Added to Beauprez's local challenges, he had the burden of running in one of the worst Republican years since the 1982 Reagan recession or even the 1974 Watergate year.
The President has a 40 percent approval rating in Colorado (38% average nationally).
Voters overwhelmingly cite dissatisfaction with Iraq war as the main reason to vote.
In generic test for Congress, Democrats have had a consistent double-digit lead.
When Colorado voters were asked if the state was going in the right or wrong direction, 51 percent said "right direction." But when asked about the country, only 29 percent said "right direction" and 67 percent said "wrong track." Democrats and unaffiliated voters overwhelmingly believe the country is on the wrong track (wrong track – 76% unaffiliated and 89% Democrat) (see Figure 5).
Figure 5. Right Direction or Wrong Track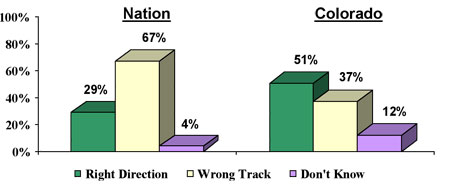 Question: Let me ask you a few questions about how you believe things are going in Colorado. Generally, would you say things in Colorado are going in the right direction, or do you feel things here have gotten pretty seriously off on the wrong track?
Question: Considering the country, would you say things nationally are going in the right direction, or do you feel things have gotten pretty seriously off on the wrong track?
Ciruli Associates; N501, Oct. 26, 2006
Colorado Voter Enthusiasm
Reflecting this concern about the direction of the country, Democrats appeared most likely to turn out. Historically, Republicans have shown the greatest inclination to vote and unaffiliated voters the least. But in a measure of voter passion about the election, Democrats and even unaffiliated voters state they are more enthusiastic about voting than Republicans (see Figure 6).
Figure 6. Democrats 24 Points More Passionate About Voting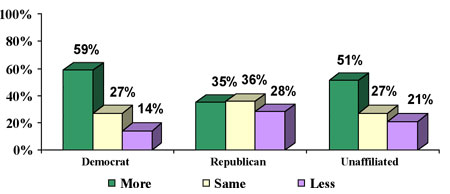 Question: Compared to previous elections, are you more enthusiastic about voting in the upcoming November election or less enthusiastic about voting?
Ciruli Associates; N501, Oct. 26, 2006
Spill Over
Negative national trends and the problems of Beauprez were effecting what happens below the ticket in other statewide and legislative races.
In 1994, when President Bill Clinton lost 52 house seats, shifting the House of Representatives to Republican control for the first time since the early 1950s, about 10 percent of the legislative seats held by the President's party also shifted sides. That was also true in 1974 and 1966 (see Table 4).
Table 4. Midterm Elections
Election
Year

State
Legislature

Source: Ciruli Associates from Rhodes Cook data.

Ciruli Associates, 2006
Both houses of Colorado's legislature were closely contested in late polling, with Democrats winning both by small margins for the first time in more than 40 years in 2004. Republicans, who initially appeared to have a good chance to win both houses back, especially the lower house, in fact looked like they might be shut out or even lose ground in both houses.
Statewide Constitutional Offices
The closeness of candidates in the statewide constitutional offices of Treasurer, Secretary of State and Attorney General confirms the spill over effect from the difficult year.
The Republican team started with advantages of having candidates who had been in statewide office and a 170,000-registered Republican vote advantage. But Democrats were within the margin of error in all three races. The races were yet to be decided due to the high percentage of undecided (see Figure 7).
Figure 7.
Ciruli Associates; N501, Oct. 26, 2006
Mark Hillman, a former Republican state senator, was appointed to the Treasurer's office and was polling behind newcomer Kerry Kennedy, who has been active with ballot issues and as a legislative staffer (Hillman 37%; Kennedy 40%).
Mike Coffman, the former elected Republican State Treasurer who left to serve in Iraq was statistically tied with Democrat State Senator Ken Gordon (Coffman 42%, Gordon 43%).
Finally, most surprising, Republican Attorney General John Suthers was barely ahead of Boulder attorney Fern O'Brien, who has not been able to mount much of a campaign due to a lack of funding (Suthers 42%, O'Brien 38%).