New TABOR Initiative Lacks Support
Among Southern Colorado Residents

April 29, 2005
Floyd Ciruli
Proposed reform of the tax-limiting TABOR Amendment, which received final approval in the Democratic-controlled legislature and was endorsed by Republican Gov. Bill Owens, lacks initial support from southern Colorado voters. The initiative, which will be placed on the November 2005 ballot, begins nine percentage points behind (38% favor, 47% oppose and 15% "don't know") in a new poll of 750 voters in nine counties in the Arkansas River Basin.
The TABOR Amendment limits state government spending. The proposed changes would allow state government to keep and spend all excess (above TABOR spending limits) tax revenue for the next five years. The amount would be about $3.1 billion and could be used to fund state programs and projects and balance the state budget.
Support and Opposition for TABOR Initiative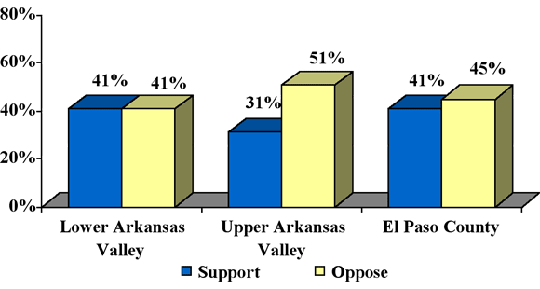 Ciruli Associates, N750, April 2005
Question: Both houses of the state legislature are nearing completion of changes to the so-called TABOR Amendment, which limits state government spending. The final proposal will be on the November election ballot for voters to decide.

The proposal being debated would allow the state to keep all tax revenue collected for 5 years regardless of TABOR Amendment spending limits. The amount state government could spend would be about $3.1 billion dollars. The proposal would end refunds to taxpayers during the 5 years. After 5 years, voters would have to vote to continue to allow the state to keep all revenue it collects. During the 5 years, the additional money would be used to fund state programs and projects and balance the state budget with no further cuts. If there is surplus revenue above the TABOR Amendment limit after 5 years, the state income tax rate would be lowered from 4.63 percent to 4.5 percent.

Given what you have read or heard about the proposal to change the TABOR Amendment, if you had to vote today, would you favor or oppose the proposal?

(A total of 250 interviews were conducted in counties in Lower Arkansas Valley: Bent, Crowley, Kiowa, Otero and Prowers; 250 interviews in the Upper Arkansas Valley: Chaffee, Fremont and Pueblo; and 250 interviews in El Paso County.)
As Figure 1 shows, the initiative loses strongly (by 20 percentage points) in the Upper Arkansas Valley, which includes Pueblo, Chaffee and Fremont counties (31% support to 51% opposition). That area has the highest percentage of registered Democrats (46%). El Paso County, with the lowest percentage of Democrats (24%) and highest Republican percentage (52%) of the three regions, is the next least likely to support the initiative (41% support to 45% oppose).
The survey was conducted for the Pueblo Chieftain Apr. 6-11, 2005, by Ciruli Associates, with 750 registered voters in nine southeast Colorado counties. The statistical range of accuracy for a sample size of 750 is ±3.6 percentage points in 19 out of 20 cases. Sample tolerances for subgroups are larger. For example, the confidence interval for a cluster of counties of 250 respondents is ±6.2 percentage points.
Voter Characteristics of Support and Opposition
The proposal allows government spending to increase dramatically over the next five years. Not surprisingly, Republicans are much less supportive than Democrats (see Table 1). However, even Democrats give it little support (Democrat margin is 3 percentage points in favor, Republican is 17 percentage points against).

Women are less informed at this point than men, but are slightly more supportive.
Voter Characteristics of Support and Opposition to TABOR Amendment Changes

Characteristic

Total in
Sample

Support

Opposition

Don't
Know

Total

100%

38%

47%

15%

Party

Democrat

31

44

41

16

Unaffiliated

24

40

45

15

Republican

46

34

51

15

Gender

Male

48

36

54

11

Female

52

41

40

19

Ethnicity

White

81

40

45

15

Hispanic

11

34

48

18

Black

2

38

62

--

Age

Baby Boomers
(35-54)

38

40

46

14

Seniors (65+)

23

34

45

21

Ciruli Associates, N750, 2005
Hispanic and African American voters are more opposed to the initiative than Anglo voters. Seniors are about a quarter of the sample (23%), and they are 11 percent more opposed than supportive of the proposal.

Observations
The following are observations concerning the TABOR Amendment initiative:

Although many opinion and political leaders believe the TABOR Amendment must be changed, at least initially, there is no outpouring of support among voters. Even among Democrats, who traditionally oppose TABOR and favor more government spending, support is well below 50 percent.

The proposal, as reported in recent news stories, is long and complex. Fifteen percent of those polled were not able to state an opinion. A substantial number of people are only vaguely aware of what the proposal entails, what problems it addresses and who favors it. It is early in the campaign effort, but the initiative begins with modest favorable opinion.

The proposal sounds like a major general government spending increase. Previous Ciruli Associates surveys and analysis of TABOR override elections have shown that success requires details of specific programs and/or projects that would benefit from additional dollars. Very few voters support general government spending increases.

The electorate questioned in this poll is more fiscally conservative and contains more partisan Republicans than a statewide electorate. But in a lower-turnout odd-year TABOR election, Republican, older and more conservative voters will dominate – all groups that currently oppose the initiative.

Proponents frame the proposal as a modest spending increase. They also must describe the bi-partisan process that led to final proposal, including the compromise spending increase to fill budget gaps but not fund new spending programs or make constitutional changes to the Amendment.

The coalition of supporters has a major and difficult task ahead of it. Ballot initiatives that begin with less than majority support can win. But typically, support recedes for ballot initiatives due to the opposition campaign. It is often easier for opponents to raise doubts than for supporters to raise comfort. For example, the passage of two amendments that have most impacted the current budget, the TABOR Amendment and Amendment 23, both enjoyed high levels of early support, then fell to a bare margin of victory on election day. It is unusual for a proposal to begin with less than majority support and climb to victory by election day.

Research Design

---
Conducted by: Ciruli Associates
Sponsored by: Pueblo Chieftain
Date: Apr. 6-11, 2005
Area: Nine southeastern Colorado counties. Voters in El Paso (250); Upper Arkansas (250): Chaffee, Fremont and Pueblo; and Lower Arkansas (250): Bent, Crowley, Kiowa, Otero and Prowers
Abbreviations used: Lower Arkansas Valley, LAV; Upper Arkansas Valley, UAV; and El Paso County, El Paso
Sample Size: 750 registered likely voters; 250 voters in each area. Total amounts are weighted in proportion to voting population.
Margin of Error: 750 voters,±3.6 percentage points; 250 voters,±6.2 percentage points


---
Ciruli Associates • 1490 Lafayette St., Suite 208• Denver, CO 80218 • PH (303) 399-3173 • FAX (303) 399-3147.