Public Opinion and Colorado's New Energy Economy

by Floyd Ciruli
Ciruli Associates
November 2007


A statewide conference was held in Denver on October 30 to examine key elements in the current and evolving energy economy. The following report is drawn from a presentation of public opinion at the conference, titled "Colorado's New Energy Economy," sponsored by the Colorado Public Utilities Commission, the Governor's Energy Office and the Office of Consumer Counsel in partnership with Energy Outreach Colorado. The data in this report were presented in a panel, "Consumer demand: What do consumers want and at what price?" It was chaired by Professor Patricia Limerick of the University of Colorado and the Center on the American West.
The sources for the data used in this report are:
Public Opinion Quarterly (Fall 2007), "Twenty Years of Public Opinion About Global Warming"
Gallup Report (March 2007), "To Americans, the risks of global warming are not eminent" and "Environmental concern holds firm during past year"
American Enterprise Institute (April 2007), "Studies in Public Opinion; Polls on the Environment and Global Warming"
PollingReport.com (2007), "Energy and Environmental Topics"
Any description of public opinion on global warming in late 2007 must rest on the caveat that the intense reporting on the subject and rapid change in the policy environment reinforce the metaphor that polling is a snapshot of a moving river. While some long-term trends and observations cited in the report are likely to hold, public views on global warming and what to do about it are rapidly evolving.
Slide 1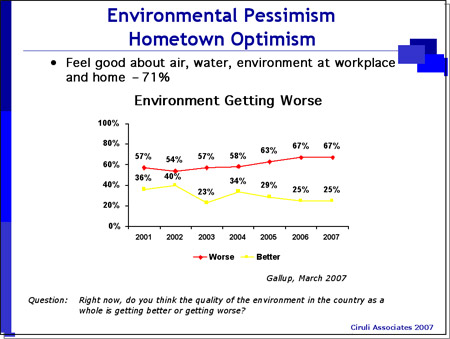 Awareness and Concern About the Environment
Since the environment emerged as a national political topic in the 1970s, awareness and concern have increased as regularly measured by public opinion polls. The Gallup poll reports that currently two-thirds of the American public believes the environment is "getting worse." (See Slide 1)
Air and water pollution have been the staples of public responses when asked about the leading environmental problems.
One public opinion anomaly is individual citizens stating that they feel good about the environment at their homes and workplaces but pessimistic about the environment in general (Harris Interactive 2004). Similarly, local business and political leaders regularly and loudly proclaim the superiority of the quality of life in their communities to encourage job growth. The public usually joins in local boosterism and is often even willing to vote for tax increases to improve the community infrastructure to be more attractive for job recruitment and economic development.
An additional issue with consequences for the environment and for public opinion is the status of energy supplies and their cost. During the oil crisis of the mid-1970s and over the last three years, the country's dependence on unstable, foreign energy suppliers and fluctuating costs have been among the top problems Americans cite in open-ended poll questions. The issue forms the backdrop in the rise of global warming as an environmental concern.
Rise of Global Warming as an Environmental Issue
Global warming has grown as an environmental topic and concern during the last 20 years to the point that, today, 90 percent of the public claim to be aware of the issue. Although only about 10 percent of Americans claim to know the science behind the phenomenon, polls indicate the public believes the problem is real and that temperatures are rising now – not just some time in the future.
An August 2007 poll conducted and reported by Newsweek magazine showed that global warming was rated first among a list of environmental problems read to respondents. (See Slide 2)
Slide 2

The previous Newsweek poll used for comparison was conducted in April 2007. In it, global warming was ranked fifth behind more typical concerns of air and water pollution.
During this period, global warming became a topic in popular culture due to former Vice President Al Gore's high-profile winning of an Academy Award for his documentary, "An Inconvenient Truth," and more recently, Gore's being named recipient of a Nobel Peace Prize for his work to bring awareness to the issue.
However, the same survey showed that when people were asked in an open-ended question what was the top problem for the federal government to address, the environment only received mention by one percent. Rather, the war in Iraq was dominant (48%).
Responding to a similar question in September 2007, Colorado voters said immigration (26%) and healthcare (14%) were the top priorities for the state legislature and governor to deal with. The environment (including references to global warming) received mention by only 4 percent of voters (Ciruli Associates 2007).
Environmentalism as a Community Value
The overwhelming majority of Americans consider themselves environmentalists. However, only about one-fifth describe themselves as "active participants in the environmental movement." A near majority (49%) is sympathetic to the movement, and about one-quarter (28%) are either neutral or unsympathetic. (See Slide 3)
Slide 3

Environmental problems suffer from the "creeping effect." The public typically believes the impact will be in the future (10 years or more). Hence, more urgent needs, such as healthcare, social security, the economy and illegal immigration, tend to dominate the current policy agenda.
For example, although many Americans (60%) have come to believe global warming has already begun, actual impact is seen as off in the future and only about one-third believe it will affect them or their lifestyles. Also, only about one-third (38%) of Americans believe some drastic action must be taken. However, that percentage reflects a 12-point increase since 2002 (Gallup 2006, 2007).
One restraint on reaching broad consensus is partisanship. It is highly related to support for environmental policies and regulations in general, and may be even more distinguishing in the global warming issue. When a list of possible effects of global warming was read to the public, 75 percent of Democrats, on average, said they were worried, but only 34 percent of Republicans said so (Gallup 2007).
Power Industry Not Popular
Slide 4
The Gallup poll regularly asks Americans to rate a variety of industry groups. The oil and gas industry has been on the bottom of the rating list for several years, reflecting a variety of complaints from high prices, to excess profits, to pollution. More recently, impact on foreign policy, from the war in Iraq to empowering demagogues and authoritarians, has directed hostility toward the industry. (See Slide 4)
Electric and gas utilities are only slightly less negatively perceived than the oil and gas industry, and are in the bottom fifth of the list. Service and information industries dominate the positive range of the rank order.
Politics and Businesses Go Green
Western governors and mayors have reaped benefits from becoming advocates for renewable energy and a variety of conservation measures – partially because:
Western states have potential for an abundance of alternative energy from wind and solar;
The energy industry from coal mining, natural gas and hydropower is so pervasive; and
There is heightened passion among environmental advocates and a worried public.
Arnold Schwarzenegger in California helped revive his stalled political career by adopting a highly visible green agenda in early 2006.
Slide 5

One key element in Colorado's Gov. Bill Ritter's 71 percent approval rating is his high-profile advocacy of what he calls the "new energy economy." There is hardly a solar installation or wind farm in the state he hasn't dedicated during his first nine months in office. (See Slide 5)
The "new energy economy" skillfully uses mostly inexpensive and only moderately burdensome conservation and spending policies and merges it with the rhetoric of economic development (especially for rural areas).
Denver's popular Mayor John Hickenlooper has also made climate change, conservation and renewable energy top policies and political goals. Mayors from Colorado and around the country have jumped on the green bandwagon.
Industry, recognizing its vulnerability to new regulations and an opportunity from renewable power and clean fuel technology investment incentives, has altered its strategies to accommodate the new political reality. For Colorado's Xcel Energy, the repositioning has been high profile and proactive. Richard Kelly, Xcel CEO, highlights the firm's commitment to sustainability.
There is a danger of falling off the bandwagon if policies aren't carefully chosen. The energy debacle and the recall of California's Gov. Grey Davis is a warning that politicians and policies can be blamed for power shortages and price spikes, which can lead to fatal political consequences. For example, recent refusals to approve new coal burning plants with cleaner burning technologies may have future repercussions during a hot summer when power is not available for air conditioning.
Reframing the Issue and Solutions for Global Warming
A major challenge of policymakers and politicians is the public's apparent strong support for renewable energy incentives, regulations – such as fuel emissions efficiency – and conservation, but intolerance for high prices, conservation taxes or surcharges, and more general economic impacts – such as increased inflation or unemployment.
For example, for two decades, surveys have shown that the public adopts the ideas of sacrifice for a cleaner environment, including increased prices to protect the environment. But that is tempered by strong opposition to taxes on electricity or gasoline to discourage consumption. (See Slide 6)
Slide 6
Also, opponents of global warming regulations have argued there will be negative consequences on the economy, and substantial blocs of voters agree. They oppose energy policies that could:
Increase unemployment – 45% oppose
Lead to mild inflation – 39% oppose
Increase utility bills – 49% oppose
(Gallup 1997, Harris Interactive 2001)
But, the new policy environment has advantages for those who advocate dramatic action. Energy prices, especially for gasoline, are nearly double from three years ago and are likely to remain high. The price volatility of utility bills is now highlighted monthly. Hence, the concern for price increases based on policy appear reduced (i.e., current policies and the energy marketplace are already driving up prices).
Slide 7

The policy consequence of foreign oil dependence, from funding autocratic states to the belief of many voters that Iraq is mostly about oil, is also increasing the public's willingness to make additional sacrifices to change the current energy mix and its traditional production sources.
And finally, there is a growing sense that global competition and restrained supplies are both going to drive up energy prices and weaken our economic position unless America changes its energy policies.
These new conditions, along with new political leaders and their environmental allies, are reframing the global warming issue and its package of solutions. They are arguing that environmentally sound policies will help America's competitive position, increase efficiency and save money in the long run. (See Slide 7)
Global Warming as an Issue in the 2008 Election
Democrats have had an advantage over Republicans for the modern life of the environmental issue. That advantage continues with global warming. Yet, Republicans continue to be elected, even in states with environmentally sensitive electorates, such as Colorado, partially because Republican candidates blunt the issue by selective environmental positions and occasional high-profile projects, such as former Colorado Governor Bill Owens' support for open space protection, or U.S. Senator Wayne Allard's advocacy of a new national park in the San Luis Valley.
Slide 8

But also the environment has not tended to be a critical issue for most voters in selecting a candidate over the last decade or more. Rather, it has served as a background issue used to screen out candidates who might be extreme and unacceptable.
Going into what appears to be a difficult year in 2008, Republicans are again seen by twice as many voters as less likely to address global warming issues than Democrats, but the issue is cited by only 4 percent of voters as critical to their voting decision. (See Slide 8)
Conclusion: Energy Policy Grows into Policy Space
The marketplace and the political environment are both working to make energy a major occupier of political space during the next decade as the effects of global warming become more visible and the politics surrounding them more aggressive.