Domestic Partnership Initiative Fails,
Major Setback for Colorado Gay Rights Movement
January 10, 2007

Analysis By Floyd Ciruli
The gay rights movement suffered a double-barreled loss on Nov. 7 when Colorado voters joined seven states in approving a constitutional ban on gay marriage (56% to 44%). Colorado also rejected the country's first proposed statewide domestic partnership initiative by 47 percent to 53 percent. The following report analyzes the election results and the political environment in Colorado involving gay rights.
Eight states had marriage amendments on the ballot, defining marriage as between one man and one woman. Some also included a ban on domestic partnership. One state, Arizona, rejected the amendment, albeit by only 2 percent – 49 percent favored; and 51 percent opposed. Colorado's 12-point spread was the narrowest margin of approval, but still substantial.
Table 1.- Definition of Marriage Ballot Amendments
November 2006

State

Arizona

Colorado

Idaho

South Carolina

South Dakota

Tennessee

Virginia

Wisconsin


Ciruli Associates, Associated Press,
New York Times, 2006



The seven amendments defining marriage approved in 2006 join the eleven amendments already approved in 2004 (Arkansas, Georgia, Kentucky, Michigan, Mississippi, Montana, North Dakota, Ohio, Oklahoma, Oregon and Utah.). Oregon's vote was the closest in 2004 at 57 percent approval. Eight of those proposals included a ban on domestic unions.

Locally gay rights supporters knew they faced an uphill battle in defeating the marriage amendment. Still, they selected a two-pronged strategy to, at the same time, place on the ballot and campaign for a domestic partnership initiative. Supporters believed if an amendment defining marriage was likely to pass, it might actually help a domestic partnership initiative. The theory held that there would be a strong statewide dialogue on gay rights, and some percentage of voters who would vote for the ban would feel that gay couples should at least have basic legal rights related to their relationships. Polls showed if domestic partnership could be framed on basic rights concepts, such as hospital visitation and pension rights, it could win majority support. In addition, supporters organized an extensive campaign, had a number of high-profile endorsements and substantially outspent gay rights opponents.

But now that the campaign has failed, domestic partnership rights, which have been secured by statute in many states, will likely have more difficulty being enacted in Colorado, even with solid Democratic control of the legislature and governor's office due to the rejection of the proposal.

1992 Gay Rights Ban

Colorado has a high-profile political history with gay rights initiatives. In 1992, Colorado voters passed a constitutional amendment that banned the state of Colorado or any division of local government from adopting or enforcing policy to protect gay rights. The now infamous Amendment 2 would have reversed local anti-discrimination ordinances in Aspen, Boulder and Denver, but was overturned by the U.S. Supreme Court in 1996 (Romer vs. Evans). [1]

Figure 1 compares the results of the recent 2006 gay rights proposal with the 1992 initiative to ban gay rights statutes and ordinances. It shows that despite a near doubling of the number of voters (1.5 million in 1992 to nearly 3 million in 2006), the pro-and anti-gay rights votes are nearly the same proportion – mid-to lower-50 percent of voters oppose and mid-to upper-40 percent of voters support the gay rights position on the initiatives offered.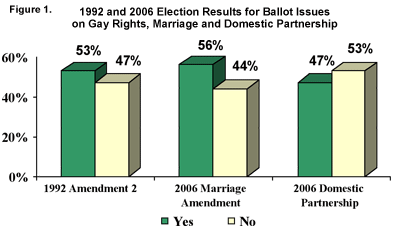 Ciruli Associates, Associated Press, Colorado Secretary of State, 2006
Table 2 shows the gay rights position for each of the three ballot proposals in Colorado's 11 largest counties (representing more than 80% of the voting population). The pattern of support and opposition to expand gay rights shifted even though the totals remain similar over the years and among the proposals. Support for gay rights in 2006 declined slightly in several counties that favored the anti-gay initiative in 1992, such as Adams, Mesa, Pueblo and Weld counties. It increased slightly in Arapahoe, Jefferson and Larimer. In fact, domestic partnership passed in Larimer County and nearly passed in Arapahoe and Jefferson counties. Support jumped substantially in Denver and Boulder. In general, the metro counties appeared to shift to the left in the 2006 election. Hence, the defeat was mostly a product of the decline of support in Colorado's more socially conservative counties.
Table 2. - Voter Support for Gay Rights Position in Largest Colorado Counties
1992 and 2006 Ballot Issues


1992
Amendment 2
No

2006
Marriage
Amendment
No

2006
Domestic Partnership
Amendment
Yes

Ciruli Associates, Associated Press, Colorado Secretary of State, 2006
National Polls on Gay Rights

Although there has been a steady trend of increased support for gay rights, a majority of U.S. citizens have "opposed recognizing same-sex marriage from the earliest polls onward" (Public Opinion Quarterly, winter 2005, Brewer and Wilcox). Support especially wanes when controversial court decisions or unsanctioned marriage events take place. In 2003 and 2004, polls showed a host of high-profile gay marriage controversies lowered support for gay rights and helped propel the passage of the 11 constitutional bans on gay marriage.

More popular among voters is the idea of civil unions, which exceeds support for gay marriage by 5 to 15 percentage points in most recent national polls. The trend has been upward since 2000, and a few polls in 2006 have shown, in fact, a slight majority of the public does support some form of legal recognition. In particular, when posed separately, inheritance rights, Social Security, and health and employee benefits for gay partners are supported by substantial margins.
Table 3. National Polls on Gay Marriage and Domestic Partnership

Gay Marriage
Domestic Partnership

Poll

OK

Not Okay

Favor

Oppose

Pew 7/19/06

35%

56%

54%

42%

ABC News/Washington Post 6/4/06

36%

58%

45%

48%

Gallup 5/11/06

39%

58%

--

--

Gallup 7/21/04

32%

62%

49%

48%

(5/4/04)

Pew 7/18/04

32%

56%

49%

43%

ABC News/Washington Post 2/22/04

39%

55%

45%

48%

Pew 3/18/01

35%

57%

--

--

Gallup 1/16/00

34%

62%

42%

54%

(10/28/00)
Ciruli Associates; Polling Report.com, 2006
Colorado Election Polls on Gay Rights
Published election poll results on the two Colorado proposals were stable. The marriage amendment was consistently ahead and the support of domestic partnership statute sat at 50 percent or below. The one exception was a mid-September poll by the Rocky Mountain News that showed domestic partnership ahead with 58 percent. It could have been a reflection of a heavy broadcast advertising campaign by gay rights supporters during the polling period, or simply an outlying data point.
Table 4. - Colorado Polls on Marriage Amendment
and Domestic Partnership

Marriage
Amendment

Domestic
Partnership

Denver Post 2/8/06
Rocky Mountain News 9/12/06
Ciruli Associates 10/26/06
Denver Post 10/26/06
Rocky Mountain News 10/30/06

Ciruli Associates, Denver Post, Rocky Mountain News, 2006
There was little evidence in 2006 that same-sex issues had the same intensity as they did in the 2004 presidential election. They were seldom mentioned as important issues in open-ended 2006 pre-election poll questions, and did not feature strongly in talk radio or weblog conversations. Abortion and gay marriage ranked last in importance among the issues – such as corruption, Iraq War and economy – tested in the Election Day exit poll (U.S. General Exit Poll, Edison/Mitofsky). Turnout, especially of the Republican base, did not appear impacted; nor were Democratic fortunes harmed.
Gay Rights Campaign
The domestic partnership proposal faced a difficult campaign. Not only did polls show the concept had, at best, 50 percent support (and it tends to be soft support), the Colorado proposal was aggressively comprehensive, which engendered additional skepticism. Most importantly, by being on the ballot at the same time as the marriage amendment, a "threat" to traditional marriage framed the issue.
While the proposal started with support from approximately half the electorate (a weak position to begin any ballot issue), it appeared to lose favor toward the end of the campaign. The sagging support reflected opposition advertising, which tied the domestic partnership to the gay marriage ban. The gay marriage ban and conservative position on civil union was helped when on Oct. 29 the New Jersey Supreme Court ordered the state legislature to legalize civil unions. The decision immediately put gay rights advocates on the defensive. Then, in the final week prior to the election, the controversy over Reverend Ted Haggard's relationship with a gay prostitute became front-page news. Haggard was a nationally prominent leader of one of Colorado's largest evangelical congregations.
In the end, news events overwhelmed the campaign message. Gay rights proponents had attempted to frame the issue as basic economic and human rights, such as health insurance, hospital visitation and inheritance. Instead, the dominant image voters saw in the final days were negative stereotypes of the gay lifestyle: promiscuity, drug usage and a damaged family.
Characteristics of Support and Opposition
Republicans were more in favor of the gay marriage ban and opposed to civil unions than Democrats, who were in the reverse position on each issue, which illustrates Democrats' greater ideological diversity and the social conservative side of two key constituencies – Hispanic Catholics and Black Protestants.
Along with party identity and ideological preference, age, education and religious involvement strongly influence viewpoints on gay rights. In the Ciruli Associates poll conducted Oct. 24-26, 2006, 12 days before the election, support for the marriage amendment increased as voter ages went up, as well as when education levels went down. Conversely, higher levels of education correlated with increased support for domestic partnerships, but age proved less of a factor with those who mostly opposed domestic partnership (only those aged 65 years old and older opposed domestic partnership). While men and women were equally in favor of the marriage amendment, men were much more adverse to domestic partnership rights.
Table 5. - Support and Opposition for
Gay Marriage Ban and Domestic Partnership
Gay Marriage Ban
Domestic Partnership

% in
Sample

High school
or less

Ciruli Associates, N501, 2006
Finally, when the electorate is segmented based on church attendance, three nearly equal segments emerge: churched voters (38% of the electorate attend weekly, or more often), occasional voters (31% attend monthly or less) and non-churched (30% attend seldom or never). Church attendance is strongly related to voter positions on both the marriage amendment and domestic partnership. Only secular voters opposed the marriage amendment, but both secular and occasional church attendees supported civil unions.
Future of Gay Rights
Although American society is moving toward greater acceptance of gay rights, there continues to be considerable resistance to gay marriage. Gay rights proponents can point to greater support among younger and better educated voters to argue that time is on their side. The counter-trend is that a substantial portion of the electorate is highly religious, and joins a majority of voters protective of the marital right. Also, voters, in general, are concerned about the moral direction of the country, and whenever the gay rights issue becomes entangled with controversy, support declines. As a result, the gay rights agenda remains fragile and sensitive to political, social and cultural dynamics, a set of factors that make it not only volatile, but also likely – when all is said and done – to be decided by the Supreme Court.
The statewide survey was conducted by Ciruli Associates with 501 likely Colorado voters from Oct 24 to Oct. 26, 2006. The survey was conducted as a partnership between 9 KUSA and ciruli.com, the political website of Floyd Ciruli. The statistical range of error is ±4.4 percentage points.
[1] See Floyd Ciruli, "Ten Years After Amendment Two: Colorado Voter Attitudes on Gay Rights, 1992-2002," paper presented to American Association of Public Opinion Research, May 2004, Phoenix, Arizona. Among the paper's findings was that Colorado voters would not pass a new limitation, but did not favor gay marriage (available at website: www.ciruli.com).
. . . . . . . . . . . . . . . . . .
Ciruli Associates is a non-partisan research firm providing polling, election analysis and political commentary to Colorado and national media organizations since 1976