Colorado key to national race
But voters lack passion for candidates
by Floyd Ciruli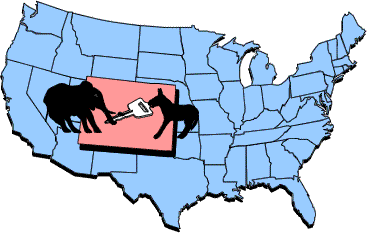 Colorado is a busy place, politically speaking.

Consider President Bush, who on Monday makes his second visit in a month — more than during his 2000 presidential campaign.

And Democrats, who are without the benefit of the presidency, are importing the next best thing: Robert Redford and a "West Wing" actor, both of whom play politicians (and politics).

And finally, television airwaves are so clogged with negative assaults and political promises that viewers are rethinking their dedication to "Must See TV."

The furious activity comes because Colorado, along with a handful of other states and congressional districts, could decide political control of the U.S. Senate and House. So, with all this wooing and courting, why are Colorado voters having such a hard time deciding, and why are we so unhappy with the candidates and campaigns?
Whether voters see the season as too much politicking or too little substance, the most common refrain is, "I just wish it was over." The negative tone of the election, launched early with relentless attack ads, has Colorado politics mired in muck.

This year's election is being framed by reminders of the 2000 dead-heat presidential race. Recent national polls show congressional races too close to call. Moreover, we are an ambivalent nation—the president's ratings are high but not for his economic policy, we support the war but not waging it alone, we know there is a recession but don't feel the pain.

In what may be the most important election in a decade, Colorado voters join the national electorate in being anxious about the issues, but passionless for the candidates and their policies.

For Democrats, retaining their one-seat U.S Senate majority at least partially rests on the outcome of Colorado's Senate contest. A Tom Strickland win over incumbent Wayne Allard would mean Republicans are unlikely to regain control of the Senate.
Colorado voters are closely divided between Strickland and Allard.

Neither candidate has risen above a low 40 percent support, and at least 15 percent of voters remain stubbornly uncommitted.

Allard earns votes for his position on war in Iraq and national defense in general. Strickland wins on the environment and Social Security. But neither scores a knock-out punch, largely because voters, despite anxiety over current events, remain reasonably optimistic and have yet to blame incumbents as they did during the massive purge of Republicans in the 1982 recession.

The candidates' campaign strategies haven't helped. Neither candidate has outlined a clear economic plan. And Strickland's efforts to move to the center (supporting the president on Iraq, advocating no new gun laws and avoiding discussion of tax cut rollbacks) blur traditional party distinctions and limit choice in some of the most significant policy areas. This lack of policy differences creates an important issue for voters, especially Democrats, which is to maintain congressional checks and balances to offset the Republican president.

As with Allard and Strickland's 1996 race, the choice again comes down to partisan preferences and style issues–Main Street Greeley vs. 17th Street Denver; walking a hay field vs. hiking fourteeners; holding town meetings vs. staging press conferences; and 7th Heaven vs. the West Wing.

The Senate is not the only high-stakes election. Colorado also could help decide control of the U.S. House of Representatives. Democrats need only six more seats out of 435. Colorado's new 7th Congressional District is one of about 20 nationally that are highly competitive and the focus of national attention and money. Seventh District candidates Republican Bob Beauprez and Democrat Mike Feeley are locked in a dead heat.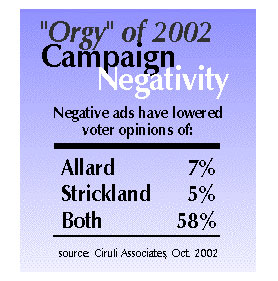 Not since 1992 has Colorado experienced an election this politically significant. In that year, Coloradans broke their Republican presidential voting tradition to back Bill Clinton, and helped launch the tumultuous and bitterly partisan eight-year Clinton presidency. Even more significant to Coloradans were passage of tax-limiting Amendment 1 and anti-gay rights Amendment 2.

It is ironic that the "hate state," the label gay rights supporters gave Colorado in 1992 for approving Amendment 2, may become the "tolerant state" for being the first to defeat Amendment 31, the anti-bilingual amendment that won major victories in California and Arizona and appears headed toward easy victory in liberal Massachusetts this November.

Amendment 31 has suffered from the beginning (even before a $3 million infusion to opponents). Editorial pages and political, school and community leaders agree that the amendment is too punitive concerning parental waivers and teacher legal liability. But the most significant asset for the opposition is Gov. Bill Owens, who has lent his name to it because he doesn't want to derail his vigorous outreach to Latino voters or damage close Republican elections around the state.

Most of the remaining amendments on the 2002 ballot read like a policy wonk agenda for election reforms. While the electorate ultimately might approve new campaign finance limits, mail-in voting, Election Day registration and anti-caucus procedures, up to one-third of voters are either undecided, or simply don't care. If most of the amendments fail, it will be a major setback for the state's surfeit of millionaire ballot initiative entrepreneurs.

The established rule of voter turnout is that it increases with closely contested races spending large amounts for advertising and get-out-the-vote efforts. Still, of the states' 2.8 million registered voters, only about half are expected to vote, which illustrates the ambivalence of the election. Not even fundamental issues such as war and peace, or recovery and recession can engage voters, who appear turned off and eager for the election season to end.


---
Permission to quote or reprint is granted provided the source, Ciruli Associates, is credited. Ciruli Associates • 1490 Lafayette St., Suite 208• Denver, CO 80218 • PH (303) 399-3173 • FAX (303) 399-3147. For additional information on Colorado politics, log on to Ciruli Associates' website: www.ciruli.com.