Advancing a Water Agenda in a Competitive Environment

by Floyd Ciruli
Ciruli Associates
March 2007

The 2006 November election represented a major change in the political landscape in Colorado with one-party Democratic control of state government for the first time since the early 1960s. However, the challenging features of Colorado water policy remain the same.
Growth continues in lower-basin states that depend on the Colorado River. The impact of global warming, a new factor, enhances the potential shortfall and the competition among basin states.
Colorado ranks 5th in population growth. The increase is most concentrated along the I-70 West Corridor and Front Range.
The aftermath of the 2002 drought lingers among residents and water providers with heightened awareness of water supply vulnerability.
Environmental and recreation needs and sensibilities continue to grow.
Vulnerability of rural economies increases as pressure intensifies for agricultural water to meet urban supply gaps.
The public is aware of water supply problems, and policymakers face considerable polarization and politicization of the issue.
Even though Gov. Bill Ritter's administration will offer changes in approach, emphasis and values, it faces the same challenging environment as former Gov. Bill Owens.
Figure 1. Advancing a Water Agenda in Competitive Environment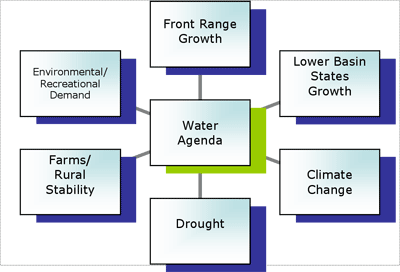 Fortunately, the public is aware of water issues due to the recent drought. Analysis of a variety of public opinion polls from Front Range communities, including Denver Water customers, Castle Rock and Pueblo, show that the public remains concerned about drought and shortages and is ahead of many policymakers in supporting conservation and reuse. Although there's no evidence of support for larger-scale storage projects or diversions, there is support for local projects and water acquisition. The public also prefers cooperation over conflict in developing solutions.



Key Events in 30 Years of Water Policy
The reason water policymaking has become more difficult is that drought and public conflicts have made it front-page news. Historically, water politics were conducted behind-the-scenes and dominated by a handful of stakeholders.

In Colorado, three decades of water policy have recorded only a handful of high-profile water controversies. President Carter's 1977 budget hit list, in which several Colorado reclamation projects were de-funded, galvanized local opposition, but signaled the end of federal funding for state water projects.

The Environmental Protection Agency veto of the proposed Two Forks Dam in November 1990 shifted Denver metropolitan and state water providers from proposing large-scale, region-wide storage projects to managing current supplies, increasing dependence on groundwater, building small off-stream projects or enhancing current reservoirs.
Figure 2. Key Events in 30 Years of Colorado Water Policy and Politics
| | |
| --- | --- |
| 1977 | Budget "hit list." Newly elected President Carter issues budget with no funding for several western water projects. End of significant federal financing of reclamation. |
| 1990 | EPA veto of Two-Forks. Long-planned Denver metro area dam and reservoir of 1.1 million acre-feet is stopped. End of big reservoir development. |
| 2002 | Drought of 2002. Record-breaking drought after decade of rapid growth. End of municipalities and water policymakers' confidence in continuing supply. |
| 2003 | Referendum A on water bonds defeated. Water policy is polarized and politicized. |
| 2004 | Statewide Water Supply Initiative study completed. Identifies 630,000 acre-foot gap. |
| 2005 | HB 05-1177 begins water roundtables and technical committees. |
| 2006 | HB 06-1124 Rotational Crop Management legislation approved. |
The drought of 2002 altered the planning assumptions for all of Colorado's water districts, including those believed to be the most secure, such as Denver Water. A dramatic increase in investment in conservation and reuse began. Prices surged as water became a valuable asset and an expensive commodity to acquire.

Although the drought shifted water priorities, it was not able to affect significant state policy changes. The defeat of Referendum A, the 2003 water revenue issue, had a chilling effect on new initiatives. Gov. Owens, in an effort to move policy in the polarized environment, began the Statewide Water Supply Investigation (SWSI), which identified a 630,000 acre-foot need by 2030, only part of which will be met by projects currently on the table.

Dialogue and roundtables were started by the then Department of Natural Resources (DNR) chief, Russell George, in an attempt to depolarize the issue with a shared set of data and procedure for consensus building.

Eventually, some specific initiatives related to solutions, such as farm-urban water-sharing arrangements, passed the legislature in 2006 and began field studies.

Population and Water Demand Increase More Than 50 Percent in Next 25 Years
The Mountain West began the decade with more record-setting population growth. Arizona and Nevada, downstream on the Colorado River from Colorado, were the nation's first and second fastest growing states respectively. While California's growth was average (25th nationally), simply because its base is so large, it added 2.58 million people in the first six years of the decade.

Global climate change is complicating water sharing along the river basin. As a recently completed study on the Colorado River Basin concludes, "Rapidly increasing populations, warmer regional temperatures and the specter of recurrent drought point to a future in which the potential for conflict…will prove endemic."

Within Colorado, the SWSI provided the first comprehensive inventory of water assets and needs in light of the expected population increase and demand for water. It pegs the population in 2030 at 7.1 million, an increase of 2.8 million, or 65 percent. Water needs are expected to increase by 630,000 acre-feet, or 53 percent.
Table 1. Population Projections by Basin and Increase in Water Demand
Colorado Population and Water Demand
2000-2030
Basin
2000
Population
2030
Projected
Population
Increase in
Population
Percent
Change
2000 to
2030
Increase in
Water
Demand
AF
Percent
Change
in Water
Demand AF

Arkansas

835,100

1,293,000

457,900

98,000

38%

Colorado

248,000

492,600

244,600

61,900

84%

Dolores/San
Juan/San Miguel

90,900

171,600

80,700

18,800

80%

Gunnison

88,600

161,500

72,900

14,900

72%

North Platte

1,600

2,000

400

100

20%

Rio Grande

46,400

62,700

16,300

100

20%

South Platte

2,985,600

4,911,600

1,926,000

409,700

53%

Yampa/White/Green

39,300

61,400

22,100

22,300

76%

Total

4,335,500

7,156,400

2,820,900

630,000

53%
Source: SWSI and Colorado Department of Local Affairs Demography Section
AF is acre-feet
Table 1 combines SWSI population and water data for each basin. The study projects that, if 80 percent of all the projects and processes, such as storage and reuse, conservation and water efficiency are implemented, there will still be a gap of more than 100,000 acre-feet. The largest gap will be in the Platte River Basin, specifically a 50,000 acre-foot shortfall in the south-Denver metropolitan area.
Governor Bill Ritter and Water Policy
Gov. Ritter's first two major initiatives affecting water policy were the selection of experienced attorney and former DNR head, Harris Sherman, to serve another term leading the department and signing water-quality legislation. The water legislation signing ceremony was in Pueblo and made as law a water-quality bill long promoted by Arkansas Valley interests to strengthen the hand of opponents to water diversion.

The bill was amended sufficiently in its final passage to win the support of many original suburban Denver opponents. But its passage and signing are illustrative of the emphasis of the new administration on "conservation, reuse, efficiency, cooperation and voluntary crop-to-city water agreements" before water diversion or big new storage projects (Colorado Promise).
Figure 3. Governor Bill Ritter and Water Policy


Governor Bill Ritter, Colorado Promise…
"My vision for the 21st century calls for maximizing supplies through a
responsible mix of conservation, re-use, efficiency, cooperation and voluntary
crop-to-city water agreements."
"Additional storage should be focused on expansion and improvement of existing facilities, smaller projects for multiple purposes, and requiring conservation, reuse and conjunctive use before new storage is considered."
"The best water project sites have been developed; our rivers are over-appropriated."
"As with water storage, I will promote all alternatives prior to diversion."
Ciruli Associates 2007
Public Opinion Supports Conservation, Action on Water Policy
When asked in 2005 and 2006 if the state was in a drought, residents of much of the Front Range said "yes." From the Denver metropolitan area to Pueblo, more than 60 percent of residents believed the drought was still on.

A majority of residents in a variety of cities believed water shortages were possible in 10 years in their local areas. About one-fifth of Pueblo, Castle Rock and Douglas County residents said they had significantly reduced their water use, with reduced water bills, the fear of drought and water shortage the main motivators.
Figure 4. Are We Still in a Drought?
Comparison of Pueblo, Castle Rock, Douglas County and Denver Water
Are we in a drought?
Ciruli Associates, Castle Rock, N500, 2005
Ciruli Associates, Douglas County, N700, 2005
Denver Water, N801, 2005
Ciruli Associates, Pueblo, N504, 2006
Question: Thinking about the drought, do you believe we are still in a drought or do you believe the drought has ended? Pueblo/Castle Rock/Douglas County
My next set of questions are about drought. Are we still in a drought? Denver Water

Table 2 shows polling results in four Front Range communities. Residents supported taking action to curtail water use, including limiting lawns for new homes; increasing public education; and in high-growth areas, such as Douglas County, ensuring all new developments have adequate water. However, resistance continues to the use of treated wastewater for drinking.

Also, residents are rate-sensitive, and the surveyed publics did not support increasing rates to achieve conservation goals. However, various constituencies said they would support increased rates for specific objectives, such as building a local reservoir – including Rueter-Hess Reservoir near Parker – expanding Pueblo Reservoir, or buying Arkansas River water for Pueblo and the Basin's future development.
Table 2. Support More Water Conservation Actions
Do you agree with water conservation actions…?
Strongly/Somewhat Agree
Type of Action
Castle
Rock
Douglas
County
Denver
Water
Pueblo

Limit lawns for new homes

77%

77%

71%

69%

Increase public education

93

--

--

89

All new developments must have adequate water

96

97

--

--

Increase rates to conserve

27

42

--

--

Reuse for drinking water

46

51

33

--


Ciruli Associates, Castle Rock, N500, 2005
Ciruli Associates, Douglas County, N700, 2005
Denver Water, N801, 2005
Ciruli Associates, Pueblo, N504, 2006

Text of questions available upon request.
Residents support long-range water planning and prefer cooperation over conflict or isolated efforts. For example, Castle Rock and Pueblo water utilities tested a variety of initiatives proposed between now and 2050 for water acquisition and project development and received substantial support. Also, Douglas County residents preferred water providers work together and Pueblo residents endorsed cooperation between Pueblo and Colorado Springs to solve problems.

Making Progress on the Key Questions
Population is rapidly increasing and the population centers, even after aggressive conservation, will require more water. The cost of the new storage, reuse, efficiencies and even conservation will be steep. But doing nothing will be worse. Draconian drought restrictions, tourism and business losses, and trucked-in water for human consumption in some areas are distinct possibilities.

At Gov. Owens' final press conference, he said his biggest policy regret was the lack of resolution of the state's major water disputes. The key water questions have not changed with the November election outcome nor has the difficulty of implementing solutions.
Figure 5. Key Questions
Can Colorado secure its share of compact water?
Can supplies get to area of demand?
- Can agreements be reached between the Front Range and Western Slope?
- Can a solution be structured for the Arkansas Valley in- and out-of-basin stakeholders?
- Can Colorado develop a fallowing program that is significant, fair and secure?
- Can the south metro area reduce aquifer dependence?
Can new water entering the metro area be shared?
What contribution will new technology, new engineering and new conservation ethic provide?
What is the state's role studies, facilitation, financing, other?
The Ritter Administration does have the advantage of the first well-conducted state water inventory, a few years of dialogue within and among basins, and considerable good will from the major stakeholders. Now the new administration must join those stakeholders to make real progress on some of the key questions.

Comments and PowerPoint presented at the 2007 Colorado Water Congress 49th Annual Convention. Published in Colorado Water – newsletter of the Water Center of Colorado State University, April/May 2007. Floyd Ciruli is president of Ciruli Associates, a research and consulting firm that provides services to Colorado water providers.