Denver Public Schools and Voter Opinion

by Floyd Ciruli
Ciruli Associates
November 2007


Denver Public School's (DPS) policies and programs generate long deliberation, much passion and heavy newspaper coverage. Yet, a recent Denver poll shows that many voters do not have an opinion on school reform proposals or the pre-November election school board.
Support for School Closures
In an October 10, 2007 Ciruli Associates poll of Denver voters, only a slight majority agreed with the recommendation to close some DPS schools. One-quarter each opposed the reforms or didn't have a view. An independent citizens' committee, A+ Denver – Citizens for Denver Schools, recommended that closing underutilized schools could release funds to reinvest in operations.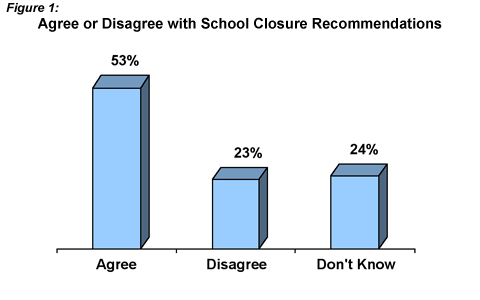 Question: A citizens' committee has recommended closing some Denver Public Schools. In general, from what you have heard or seen about the issue, do you agree or disagree that some Denver Public Schools should be closed?
The survey was conducted for the Better Denver campaign on Oct. 9 and Oct. 10, 2007 with 504 registered Denver voters who planned to participate in the Nov. 6, 2007 city bond and school board election (all mail election). The margin of sampling error is plus or minus 4.4 percentage points.
Minority Voters and School Closures
The school closure recommendations generated considerable discussion, especially among the parents and community leaders in the North Central; and Northeast areas of DPS where schools are being closed and students transferred. Denver Hispanic and Black voters are more likely to have views on the closures than the Anglo voters, and are nearly as opposed to the closure recommendations as supportive. (See Table 1)
Table 1:
Agree or Disagree with School Closure
Recommendations and Race/Ethnicity

Race/Ethnicity

All Voters

Anglo
(77%)

Hispanic
(10%)

Black
(8%)

Agree

Disagree

Don't Know

Ciruli Associates, 2007
Note: Hispanics are one-tenth of the voter base in this Denver election, and Afro-Americans are 8 percent. However, minority children make up 70 percent of DPS students.
School Closure and Voter Segments
As described, only one-quarter of voters among this electorate claim to be informed about the issues in the election. But among those voters, 68 percent agree with the recommendations of the citizens committee. (See Table 2)
Men were slightly more supportive (57%) of the recommendation than women (50%), although one-quarter of both genders didn't have a view.
Party identity produced little difference in opinion on the recommendations (Republican 53%, Unaffiliated 53%, Democrats 54%). Not surprisingly, unaffiliated voters were the most likely to not express an opinion on the recommendations (29%) compared to partisans (Republican 27%, Democrats 20%).
Baby boomers (age 35 to 64 years old) are more in favor of the closures (59% and 62%) than older or younger voter cohorts.
Table 2:
Agree or Disagree with School Closure Recommendations
and Voter Segments

Agree

Disagree

Don't Know

All Voters

53%

23%

24%

Level of Information

(25%) A great deal

68

14

17

(41%) Some

54

22

24

(33%) Very little/nothing

42

30

28

Gender

(50%) Male

57

19

24

(50%) Female

50

27

24

Party

(23%) Republican

53

20

27

(18%) Unaffiliated

53

17

29

(59%) Democrat

54

26

20

Age

(6%) 18-34

39

29

32

(26%) 35-54

59

20

21

(26%) 55-64

62

21

17

(18%) 65-74

52

23

25

(20%) 75 yrs old

45

26

29

Ciruli Associates, 2007
The electorate largely does not have children in the DPS system and is not a representative sample of parents in terms of age or ethnicity. The electorate is 77 percent Anglo, and 64 percent are 55 years of age or older - not unusual demographics for a local election.
Denver Public School Board Support
More than one-third of Denver voters had no view on the job performance of the DPS school board. Forty-one percent of Denver voters had a favorable view of the school board and one-quarter (25%) had an unfavorable view. (See Figure 2)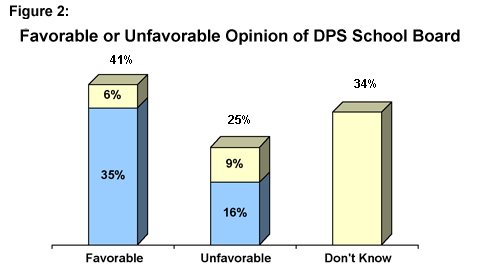 Question: Let me ask you about the job the Denver School Board is doing. Is your opinion of the School Board very favorable, somewhat favorable, somewhat unfavorable or very unfavorable, or do you not have an opinion?
Less than one week before the start of the November mail-back election, 63 percent of voters did not know if they were more likely to keep the current school board members or vote for new members. Among the few voters who offered a voting perspective, a new board was preferred over the current members by 20 percent to 17 percent.
Ultimately, voters reelected the incumbent school board members that were on the ballot and supported the three board candidates who favored the school closures and reform process.
. . . . . . . . . . . . . . . . . . . .
Ciruli Associates is a non-partisan research firm providing polling, election analysis and political commentary to Colorado and national organizations and media since 1976.